Prairieville Park Gift Shop
Packers, Badgers, Brewers, and Other Wisconsin Souvenirs for Sale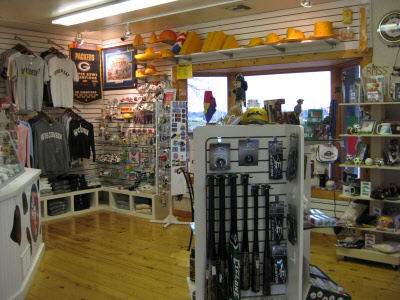 Prairieville Park has a large assortment of souvenirs and collectables for sale in our gift shop. Once you finish a game of mini golf, browse our selection of Wisconsin, Packers, Badgers, and Brewers merchandise.
Along with Packer gear, we carry the original Cheesehead hat assortment. Wear a cheese top hat or cowboy hat to mix up your Packer-themed style. We even have limited art prints for sale, the perfect gift for Wisconsin sports fans.
We also have a wide selection of golf items. Other souvenirs include postcards, shot glasses, spoons, magnets, and key chains. If you are hosting a birthday party, our toy items are perfect for goodie bags for your guests.
Give the Gift of Adventure!
Gift cards are available for purchase in person or over the phone in any dollar amount for use at Prairieville Park. Give them to your family, friends, or children so they can enjoy mini golf, batting cages, or our gift shop.